Updated by Gareth Casey
When Camigo runs, you'll see the Camigo window
The Camigo window shows a preview of your video as others will see it and the controls for all of Camigo's webcam features.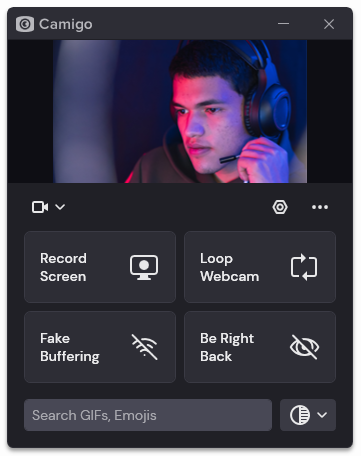 The

button let's you update which webcam you are using and the
button lets you configure Camigo's Settings, such as selecting a microphone for looped video and selecting a Be Right Back video.
The

button lets you access your saved screen recordings and quit Camigo.
The Record Screen, Loop Webcam, Fake Buffering and Be Right Back features can be activated and then deactivated by clicking the relevant buttons.
An
emoji, GIF or sticker
can be added on top of your video by searching in the searchbar at the bottom of the Camigo window and a
color filter
can be applied to your video by clicking the

.