Updated by Gareth Casey
If you need to let other call participants know that you will be unavailable for a short while, you can activate a 'Be Right Back' video. The Be Right Back video is a looping video that replaces your webcam's video.
Your microphone will also be muted while the Be Right Back video is active so no-one else can see or hear what you are doing.
If you have a 'blur background' or 'replace/virtual background' feature enabled in your video call app, that can create unpredictable results when the chat app tries to blur or replace parts of the Be Right Back video. It is recommended to disable those features before activating any Be Right Back videos.
Click the Be Right Back button to activate the currently selected video. Return to the live video from your webcam by clicking the Show Webcam button.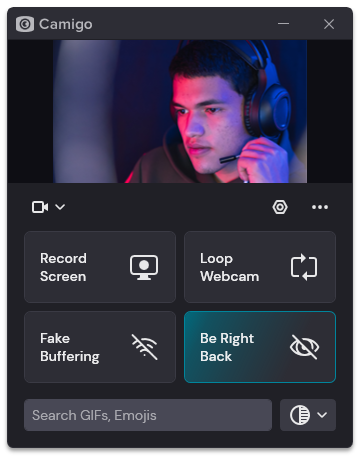 You can choose which Be Right Back video is displayed by clicking the Settings button and then clicking one of the video thumbnails under Be Right Back on the General tab.