Updated by Gareth Casey
The

button displayed under each file's details opens the Effect Window. Click the Watermark tab to move to the Watermark Window where you can add either text or an image as a watermark.
The Watermark Window displays 2 video previews; The upper preview is the Input Preview and shows the original video, and the lower preview is the Output Preview which shows how the video will appear when the watermark has been added.
Enable the Watermark option to add a watermark. If the Apply to All option is enabled, the watermark will be applied to all videos in the video list, not just the current video you have selected.
Clicking the Reset button will remove the watermark and disable the Watermark option.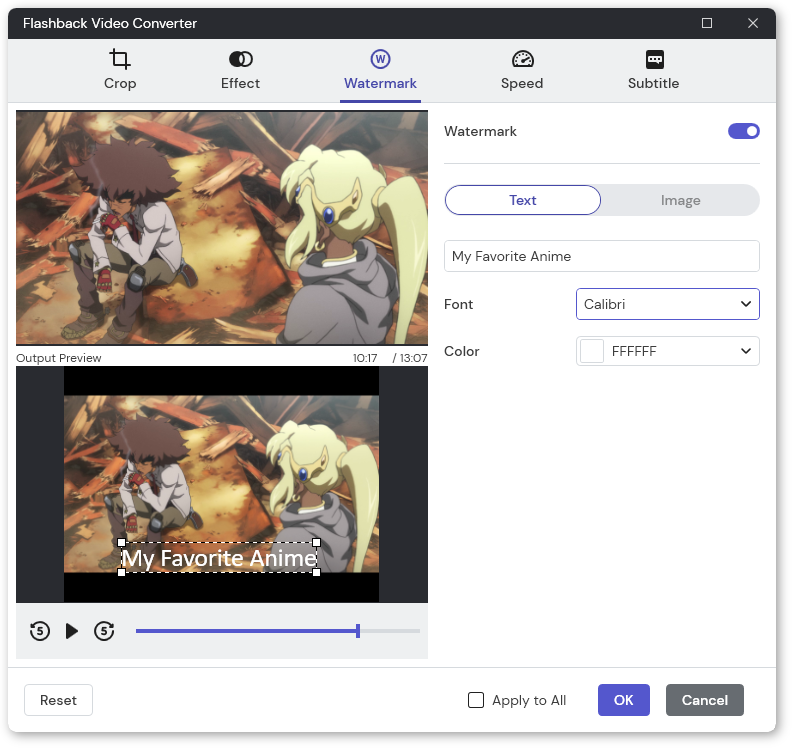 Text
To add a text watermark, select the Text tab and then enter your text into the text field where it says "Enter text here".
The text that you enter will appear on the Output Preview where it can be resized and positioned. Customize the text that is displayed by selecting a Font and Color from the relevant dropdown menu.
Image
To add an image watermark, select the Image tab, click the + button and then select the image file that you want to use. JPG, JPEG, PNG and BMP images can be added.
The image that select will appear on the Output Preview. The image can be resized by clicking and dragging the frame around the edge of the image and it can be repositioned by clicking on the image itself and dragging.
By default, the watermark image Opacity will be set to 100% which will hide the video behind it. Reduce the opacity to reveal the video image.