Updated by Gareth Casey
Clicking the
button on the Camigo window opens the Settings.
General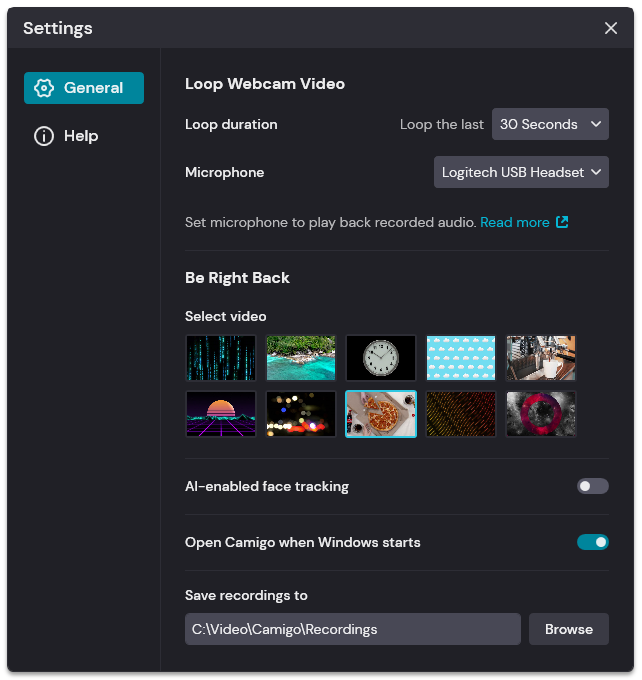 Loop Webcam Video
Loop duration - Select how long the looped video will be when you active a looped video of your webcam. By default 30 seconds will be recorded but this can be increased to 1 minute or 2 minutes.
Microphone - Select the microphone that will be used to record audio for your looped video. The recorded sound will only be played with your looped video, if Camigo has been selected as the Microphone in your video chat app. See Including sound in a loop for more details.
Be Right Back
Select Video - Select the looped video that will be played when you activate the Be Right Back screen.
Other Settings
AI-enabled face tracking - When enabled, the webcam image will zoom in on your face and then follow it as you move around within the view of your webcam. (Disabled by default)
Open Camigo when Windows starts - When enabled, Camigo will automatically start when you turn your PC on and will be minimised in the system tray until you need it. (Disabled by default)
Save recordings to - Choose where screen recording videos are saved to. Click the Browse button to select a new location (\Video\Camigo\Recordings\ is the default location)
Help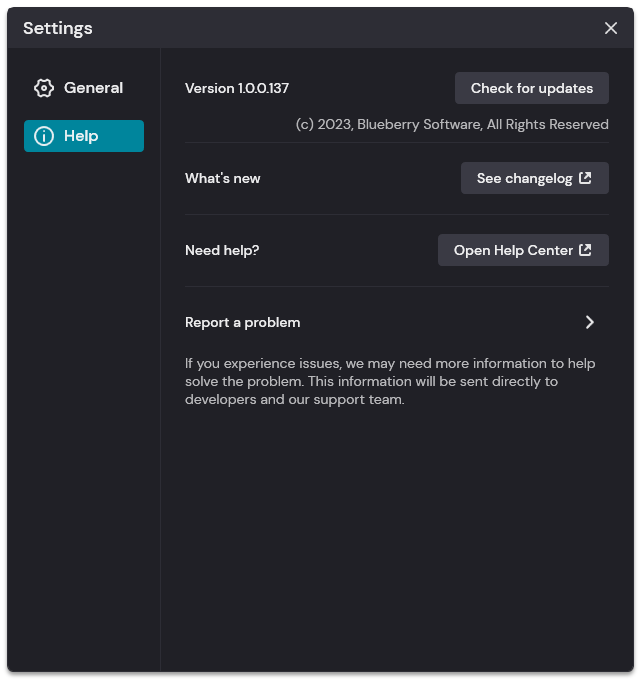 Check for updates - Click to check if a newer version of Camigo is available to be downloaded and installed.
What's new - Click to open the Camigo Change History webpage in your default browser to see what is new in each version.
Need Help? - Click to open the Camigo help page in your default browser.
Report a problem - Click

to send us your logs files if you are having technical problems or they are requested by our Support team.