Updated by Gareth Casey
If you do not want all of a video that you have saved, you can easily make a clip from that video by trimming the start and/or end off.
Click the video thumbnail on the Video Window to open the video in the Edit & upload Window.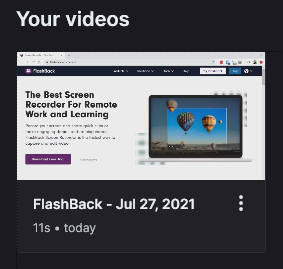 Click the

button to return to the Videos Window from the Edit & Upload Window.
Selecting a clip
Select the section of the video that is used to make your new clip by resizing the grey bar below the video preview window.
Click and drag the handles at either end of the bar to make the clip longer or shorter.

The total duration of the clip will be displayed above the grey bar and the start and end times will be displayed below.
Saving / uploading a clip
After selecting the section of the video that will be used to make the clip, the new clip will need to be saved.
To simply save a new video file to your computer, click the Video file option, then select the video format and the filename and save location. Or click Audio only to save an audio clip that contains the audio but no video.
To upload the clip instead, click the button for the service that you want to upload. FlashBack can upload to Google Drive, YouTube, Dropbox and OneDrive. See Uploading a video for more details.